Departments
The City of Clay Center has nine departments. These departments work in cooperation with each other to ensure smooth operations for the City of Clay Center and work in conjunction with the Public Utilities on various projects.
Click on the buttons below to learn more about each department.
Administration & City Hall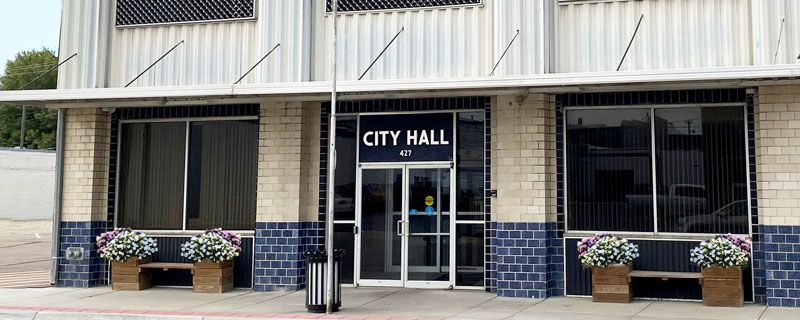 The City Clerk's office's primary duty is serving the citizens of Clay Center. The City Clerk's Department provides support and information services to other departments and the public. The staff at City Hall strives to provide friendly and efficient services in a professional manner to all citizens. Services provided include, but not limited to, the following: issuance of various licenses and permits, payroll, accounts payable, preparing the annual budget, recording and certifying special assessments, coordinating the bid process, coordination of trash services, and the receipting and distribution of City funds.
The Department maintains the city's records as well as safeguards the city's assets and maintains the controls necessary to ensure financial compliance with city, county, state and federal regulations and policies while adhering to legal, moral and professional standards of conduct. The City Clerk serves as the custodian of all city records, books, files, papers, documents and other items belonging to the city and not properly pertaining to any other office. The City Clerk also attends and keeps a record of the proceedings of all regular and special meetings of the governing body.
The Administrative Staff consists of Amelia Blackwood, Deputy City Clerk, and Kerry Rozman, City Clerk.
Greenwood Cemetery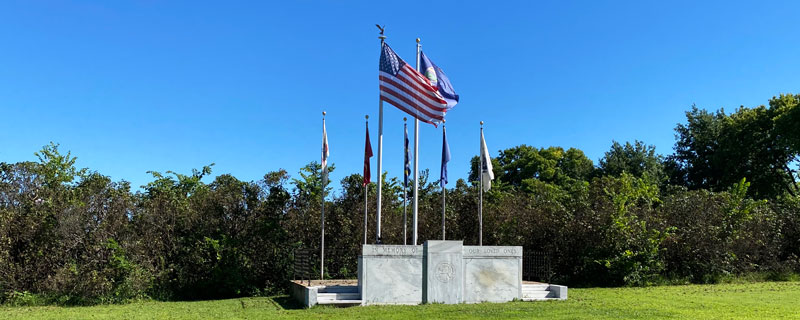 Greenwood Cemetery was established in 1875, it is approximately 77 acres. We are in charge of general maintenance of the grounds, selling grave spaces, digging graves, funerals, and helping the public locate their loved ones. Cemetery Sexton, Karen Buckner oversees 1 full-time employee, Adam Siemers and 2 part-time employees; Greg Fief and Ned McMahan.
Fire Department

The Clay Center Fire Department is an ISO Class 3 Combination Department consisting of 7 full-time members and 16 volunteer members, with John Ihnen serving as Fire Chief. Full-time employees include: Assistant Chief, Jonathan Ratliff; Lieutenant, Rodney Althiser; Firefighter, Aaron Davies; Firefighter, Howard VanDyke, Firefighter, James Gordon and Firefighter, Daniel Siemers. The department also has an explorer's program with 4 to 8 explorers. Full-time firefighters are on a 24/48 schedule consisting of 3 shifts. Each shift has a fire officer and a firefighter on duty at all times. These personnel are responsible for driving and operating fire apparatus.
They also conduct fire inspections, maintenance of dept. vehicles, all hose and hydrant testing, and fire prevention programs. Volunteer firefighters meet bi-monthly and train 6 hours per month on a variety of topics such as fire suppression, vehicle extrication, hazardous materials, high angle rescue and confined space rescue. Fire department apparatus includes, one 2017 Rosenbauer 78ft Quint, one 1996 Central States Class A Pumper, and one 1994 Gatco Class A Pumper.
Municipal Court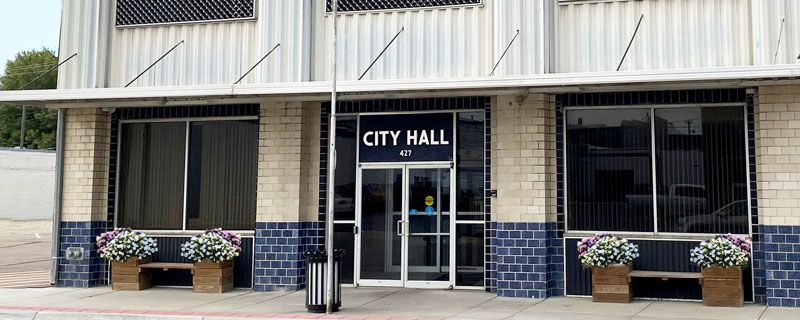 Judge John McNish is the presiding judge for the Municipal Court of Clay Center. The Honorable John McNish administers over those cases issued by the Clay Center police department that take place within the city limits of Clay Center. This also includes all city ordinances. Lacie Blackwood is the full-time Municipal Court Clerk. The municipal court hours are Monday thru Friday, 8:00am – 5:00 p.m.  Max Hanson oversees all probations and diversions.
Parks

The Parks Department's mission is to provide a service to the public through the beautification of our parks. Areas and included maintenance are listed below. The Parks Department is under the direction of Parks and Recreation Superintendent Patrick Hayes, Foreman Chris Pedersen and Operator Todd Collins.
PARKS
Areas of maintenance include Huntress Park (22.2 acres); Dexter Park (5.8 acres); Reeds Park (2.6 acres), Tiger Terrace (5 acres); Scout Cabins (2.5 acres); Fairgrounds (15.6 acres), Airport (36.0 acres); 3rd and Lane, 2nd and Clarke (.5 acres) for an approximate total of 86.5 acres.
Job duties include mowing, weed eating, trash pick-up of the grounds, maintenance on playground equipment, and painting of shelter houses. Additionally, the Parks Department paints and maintains picnic tables, serving tables, benches, and maintenance of bleachers. Snow removal is included for Huntress and Dexter Park.
RECREATION
The Parks Department mows the ball diamonds, helps with trash removal, helps with maintenance to fences, bleachers, dugouts, buildings, and any other issues that may arise. The Parks Department also assists with painting projects. The Parks Department opens bathrooms in the spring, and closes and winterizes in the late fall. Whenever time and weather permits, the Parks Department can help with other projects.
SWIMMING POOL
When the pool is out of season, the Parks Department cleans, washes, and paints the pool and bathhouse. The Parks Department does moderate plumbing and winterizing to keep things in operation. There may be other job duties such as construction that may occur. Once the pool is in operation, the Parks Department turns it over to the pool manager, completing maintenance as requested.
AIRPORT
The Parks Department is responsible for the mowing, weed eating, and spraying around the building and runway lights. The Parks Department may do other miscellaneous projects as needed. Snow removal is included for the hanger doors, tie-downs, and around the gas pumps.
CITY HALL
The Parks Department does light maintenance and other small projects per request of the City Clerk. Snow removal is included for the library, city parking lots and scout cabins.
Police Department

The mission of the Clay Center Police Department is to build a partnership with the community to improve the quality of life for all citizens. We will strive to accomplish this by providing a safe community through efficient and effective police services while always respecting the rights and dignity of those we serve.
The police department consists of Chief Bill Robinson, and 5 full-time sworn officers: Scott Galindo, Billy Smith, Scott Fischer, Justin Burwell and Gage Wilson. The police department also has 1 full-time civilian employee, Records Clerk Saundra McCurry.
Public Recreation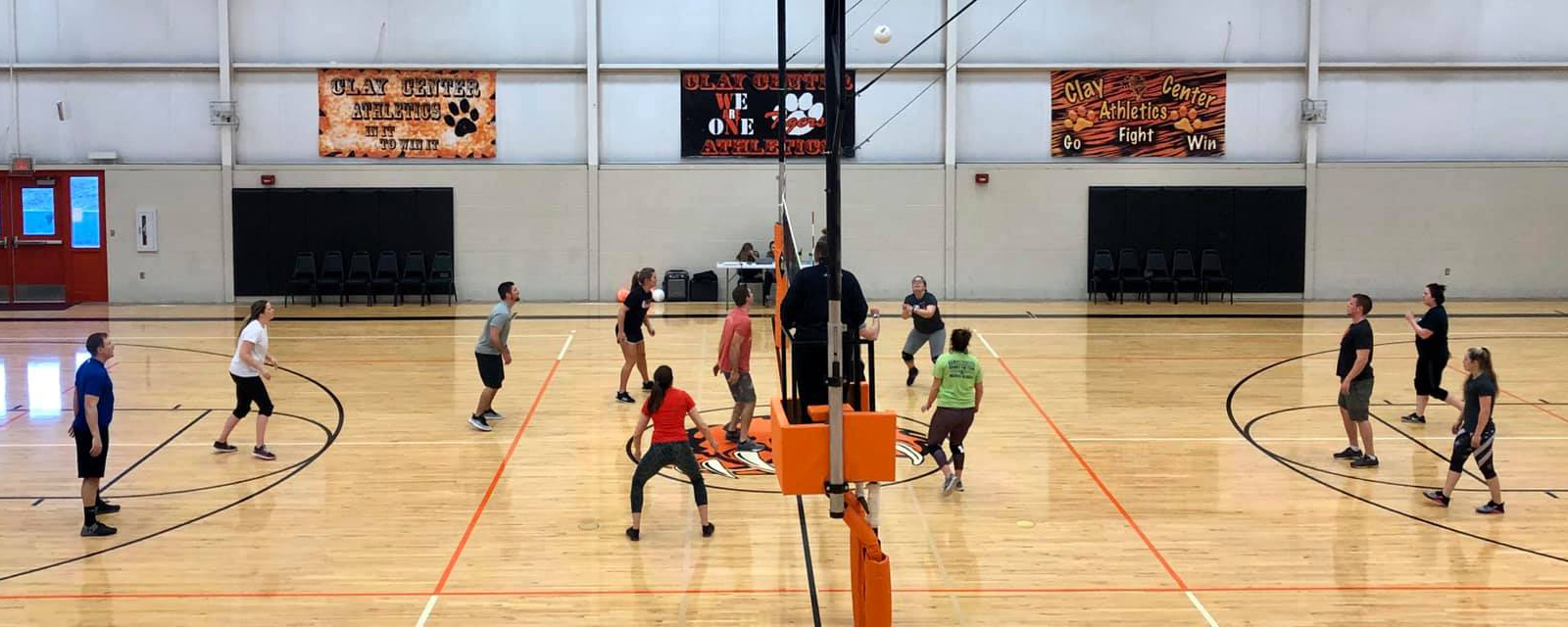 Clay Center Recreation strives to enhance and improve the experience of our community and its visitors. Programs are offered throughout the year for children and adults of all ages. Learn more about our current programs here.
Streets & Refuse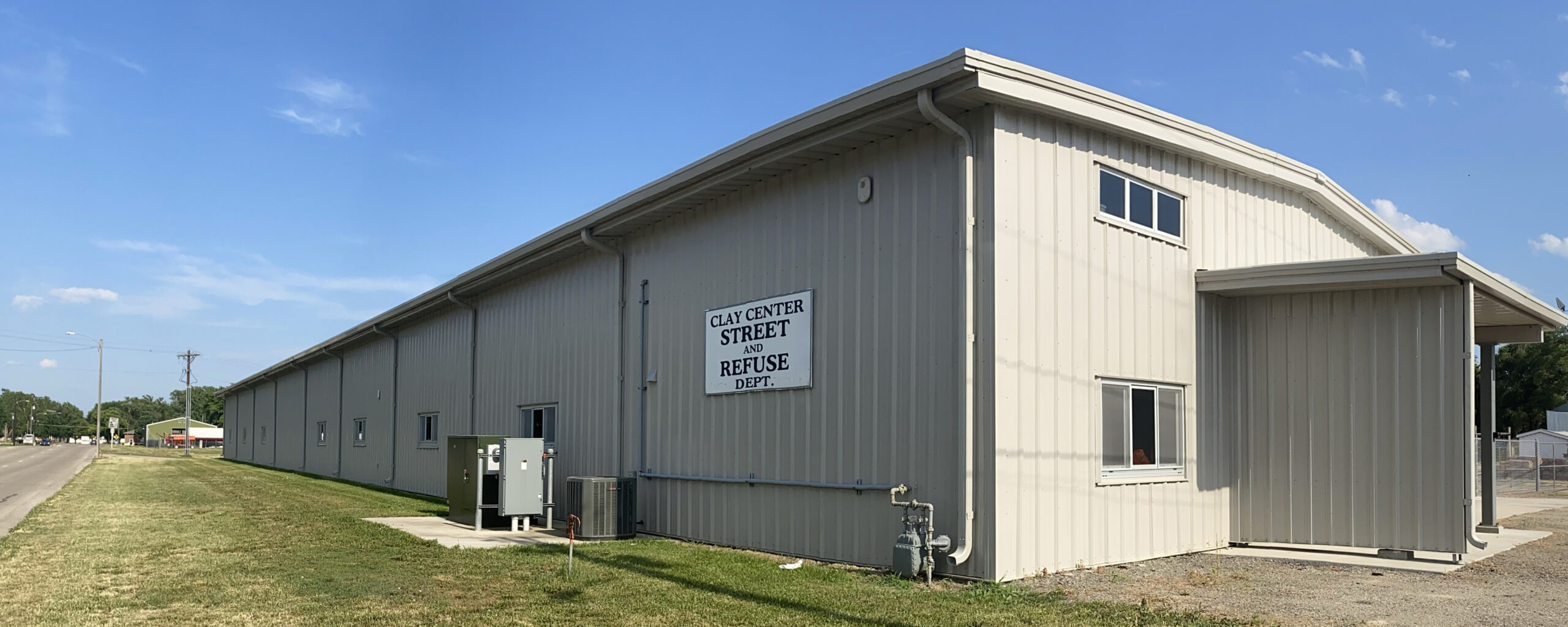 It is not clearly recorded when the Clay Center Street Department was officially established but it is estimated that it was around 1875, nearly the same time the city was established. According to the latest census, the city of Clay Center has a population of 4300 and covers approximately 3.08 square miles. Street surfaces within the city limits are largely asphalt, but also include a small percentage of concrete surfaces and gravel surfaces. The Clay Center Street Department has the duty to maintain the driving surfaces, drainage structures, curb and gutter systems, and signs and all street markings of all the streets and alleys. This responsibility also includes snow removal operations, sweeping of the streets, and maintaining drainage ditches. The Street Department has seven employees to accomplish these tasks that include: Street Commissioner, Ken Shivers; Foreman Shon Bloomdahl; and Operators Anthony Sisk, David Webb and Heath Craig.
The Street Department also has charge of the Refuse and Recycle collection. There are approximately 1900 households that get weekly refuse collection service in addition to a curb side recycle collection service. The Street Department assists other departments in the maintenance of a city wide composting and brush disposal site. The Refuse Department includes Matthew Lips and Dana Bergsten.
Wastewater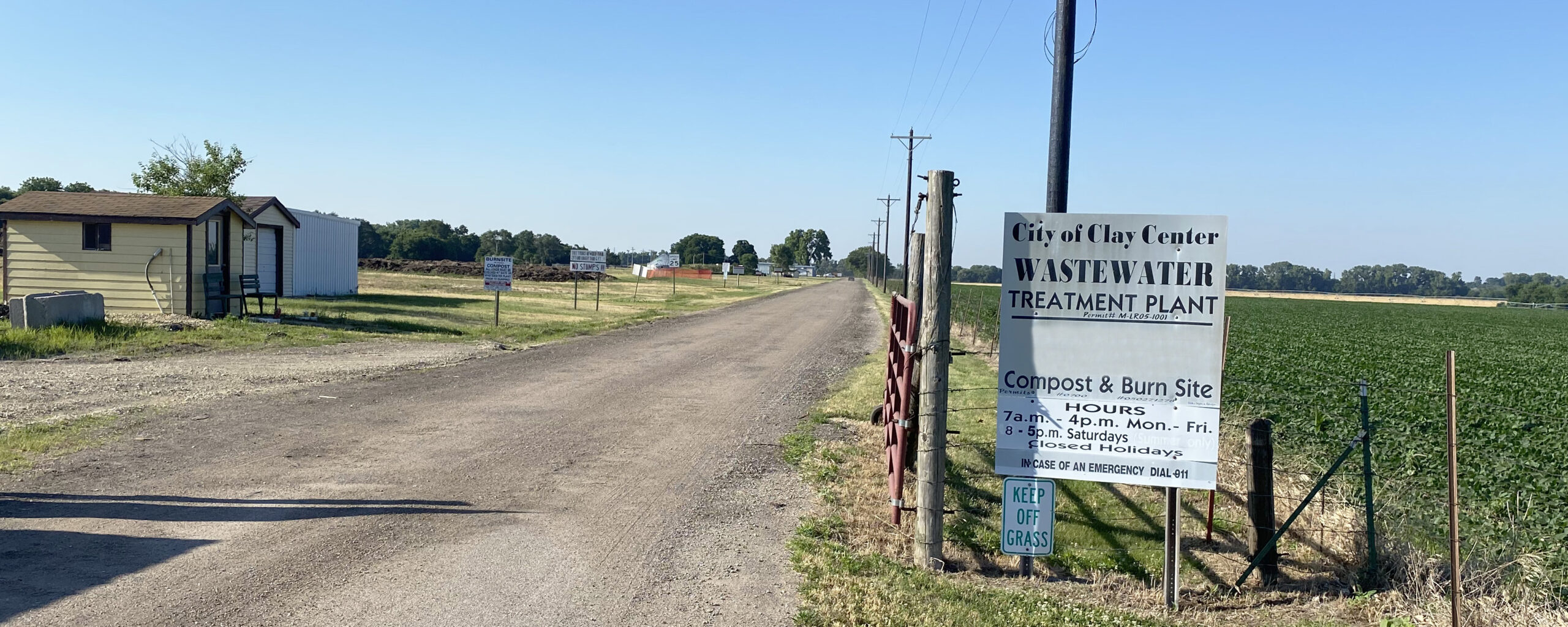 The City of Clay Center Wastewater Facility has been in existence since it has had running sewers. It was formerly a branch of the Street Department until around the mid 1980s when it became a separate entity and the operators had to become certified to operate the more technical equipment. The wastewater system collects all used water from the city and purifies it to a point where it can be returned to a receiving stream without a threat to the water life and the environment. We keep track of 7 pump stations, control the main plant and its systems, while maintaining the grounds and surrounding areas. The system handles around 500,000 gallons per day on average.
Additionally, at this site there is also a brush/compost site where citizens can dispose of tree trimmings and their excess yard waste. The City of Clay Center Wastewater Facility is headed by Kent Hessling and includes the following employees: Ron Richardson, Ed Hedberg and Denny Contreras.