"Where families play together and kids can be kids all summer long"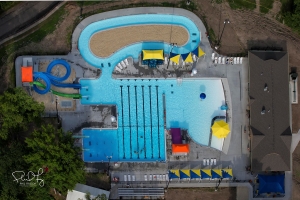 Welcome to Clay Center Aquatic Park. We're glad you stopped by to visit.
Clay Center Aquatic Park offers something for the whole family. Whether it's taking a casual ride around our lazy river, enjoying family time down our family slide, showing what you've got going off our 1 meter and 3 meter boards, or feeling the rush going down our two large slides, or just relaxing in our heated water, there is something for everyone.
Clay Center Aquatic Park is open daily during the swim season from 12:00 p.m to 7:00 p.m.  Cost of admission is $3.00 per person for all ages and anyone entering the facility must pay admission. We offer family season passes for $150, single season passes for $50, and a 10 punch card for $30 with the 11th visit free. The Aquatic Park may be reserved for private parties after normal hours for 1 1/2 hours at a cost of $175.
We offer several exercise classes including low impact water aerobics, high intensity aqua zumba, water walking in the lazy river, or swimming laps. Please call the Aquatic Park for more information.
Our concession stand offers a wide variety of snack choices from our cool ice cream treats, our very popular slushees, our wide selection of candy, and delicious hot food including hot dogs, popcorn, burritos, pepperoni pizza, hot pockets, nachos, and pretzels with cheese.
Our address is 210 West Dexter St., Clay Center, KS 67432 and our phone number is 785-632-5149.
For more updated information, visit us on Facebook at https://www.facebook.com/claycenteraquaticpark\